ConFoBi - Conservation of Forest Biodiversity
Subproject B3) Plant-Insect Interaktion

1st Phase: Diversity and functions of plant-insect interactions
along a forest retention gradient

2nd Phase: Diversity, functions and trophic interactions of arthropods
Team:

Prof. Alexandra-Maria Klein (Univ. Freiburg)

Dr. Michael Staab

Dr. Anna Knuff (1st Phase)

PhD student Nolan Rappa (2nd Phase)

Duration:

1st Phase: July 2016-June 2019

2nd Phase: July 2019-June 2022

Funding:

DFG project / Subproject in ConFoBi

Subproject (B3)
The Research Training Group Conservation of Forest Biodiversity in Multiple-use Landscapes of Central Europe (ConFoBi) combines a multi-scale, ecological study of forest biodiversity with social and economic studies of biodiversity conservation. This integrated approach is designed to establish a lively exchange of knowledge and expertise between scientific researchers and forestry or conservation practitioners.
ConFoBi focuses on how the effectiveness of structural retention measures (namely habitat trees and dead wood) for the conservation of biodiversity in multi-functional forests of Central Europe depends on the surrounding landscape. Additionally, it identifies opportunities for cooperation between forestry and conservation sectors to effectively integrate conservation with conventional forest management.
In the 1. phase of this subproject "Diversity and functions of plant-insect interactions along a forest retention gradient", we evaluate how the diversity of Hymenopteran species is related to the quality, heterogeneity and spatial distribution of habitat trees and coarse woody debris within the forest at plot scale and to the amount of forest cover at landscape scale. As research in agricultural landscapes has shown that the effectiveness of management practices to protect biodiversity depends on the surrounding landscape, we test whether this is also true for the studied forest ecosystem.
In the 2. phase "Diversity, functions and trophic interactions of arthropods", the focus will be on biomass, functional diversity and food webs of Hymenoptera and potentially further arthropod taxa.

Poster by Nolan Rappa on the occasion of the 50th annual meeting of the GfÖ from 30.08. - 01.09. 2021

Winner of the poster award of the GfÖ!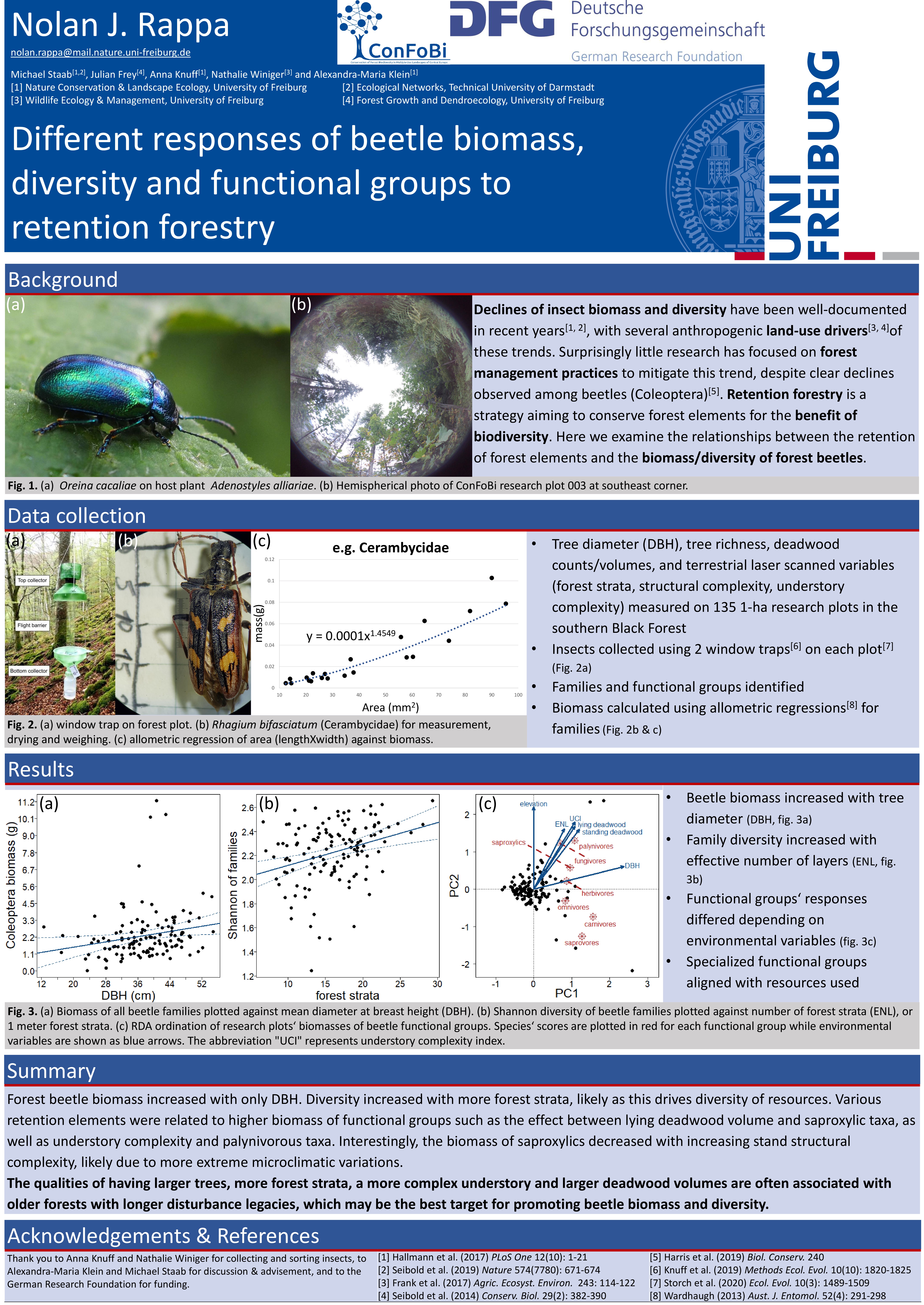 Additionally, we are working on interactions of both insects and birds with plants. Birds play an important role as seed dispersers while herbivory by insects impacts plant fitness. These relationships are shaped by habitat elements of ecosystems and their surrounding landscapes. Thus, we investigate the effects of certain forest structures, such as the presence of dead wood, and of the landscape on herbivory by gall-inducing insects and on fruit predation by frugivorous birds.
The results provide a comprehensive insight into the response of insect diversity, frugivore-plant interactions and related functions to the retention of forest structures intended to conserve forest biodiversity in multiple-use landscapes.