Dipl. oec. Tim Winter
Tim Winter
e-mail: tim.winternature.uni-freiburg.de
Research
Thinking and developing cities as functioning both for humans and as an ecological habitat is the main idea behind my work.
Ongoing urbanisation (80% in Latin and North America today, similar for Europe by 2050 according to *UN), is directly related to intensive land transformation. Ecological habitat for insects, birds and mammals is depleted or vanishes entirely, as grass lands, forests and arable land are converted to settlements, industrial areas and infrastructures.
In my study, I therefore look at immediate and network effects of green infrastructures, on urban solitary bee, wasp and parasitoid communities. Using a standardized trapnest (see pictures) approach, I assessed the existing solitary insect communities within the City of Freiburg (Germany), along the years 2015 & 2016. The data is now tested against a set of ecological categories, to look for inner-urban and periphery infrastructures that determine the insect communities. Among others, one question arising is if there is something as an urban fitness of certain solitary insect groups and which structural needs are necessary to promote (solitary) insects within densely used urban space.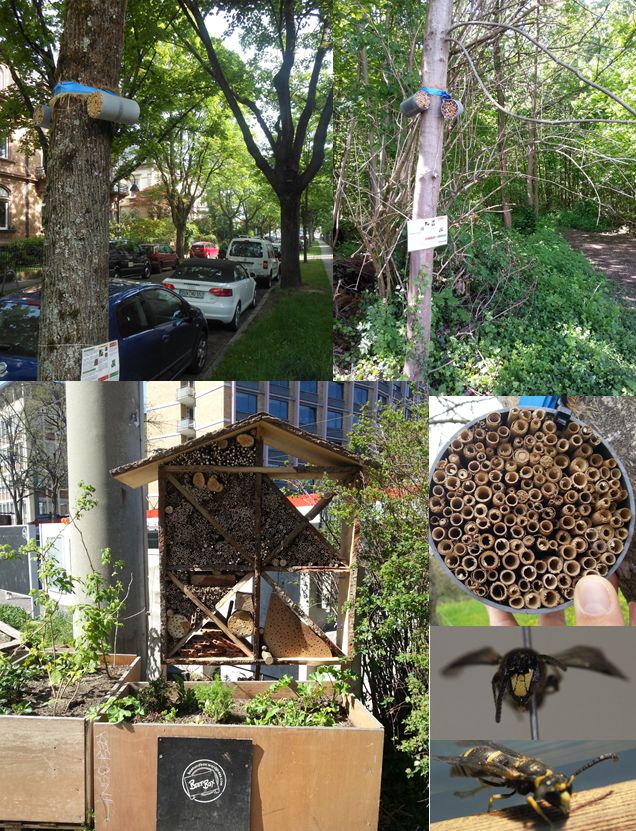 In the meantime, the pressing issues of biodiversity decline and species extinction become more visible at nearly daily rates. In contrast to the vital discussion on the negative effects of intensive farming - structural and diversity depletion and the use of insecticides, to mention the most common criticisms – the effects of urbanization on habitat and insect loss are still at minor attention. Yet, responsibility for a functioning ecosystem can no longer be passed on to protected areas and farmers alone. City developers will need to stronger interrelate and unify both human and ecological requirements within their planning efforts. This might include stronger consideration of ecology means in the fast spreading concepts of 'Smart Cities'. In a qualitative interview series with local city authorities and politicians across Germany, I further ask for past, present and future efforts and obstacles towards ecological sustainability in city development.
Vita
| | |
| --- | --- |
| since 2015 | PhD student, Chair of Nature Conservation and Landscape Ecology, Faculty of Environment and Natural Resources, University of Freiburg |
| | |
| since 2014 | Wissenschaftlicher Mitarbeiter an der Professur für Naturschutz und Landschaftsökologie, Fakultät für Umwelt und natürliche Ressourcen, Universität Freiburg |
| | |
| 2014 | Praktikum, BMZ, Berlin |
| | |
| 2012 - 2013 | Erasmus-Stipendium der Universität Freiburg, University of Science, Ås, University of Oslo, beide Norwegen |
| | |
| 2011 - 2012 | Geprüfte wissenschaftliche Hilfskraft am Fraunhofer Institut für solare Energiesysteme (ISE), Freiburg, Team Nutzerverhalten und Feldtests |
| | |
| 2010 - 2014 | Bachelor (B.Sc.) in Umweltnaturwissenschaften an der Fakultät für Umwelt und natürliche Ressourcen, Universität Freiburg, Thema der Abschlussarbeit: "Hydrological Impacts of Rurambi Irrigation Scheme" |
| | |
| 2007 - 2008 | Wissenschaftliche Hilfskraft am Lehrstuhl für Nationalökonomie, Ludwig-Maximilians Universität München |
| | |
| 2004 - 2009 | Diplom-Studium Volkswirtschaftslehre an der Fakultät für Wirtschaftswissenschaften, Ludwig-Maximilians Universität München (Abschluss als Dipl.oec.) Schwerpunkte: Politikwissenschaften, Außenhandel und Neuroökonomie Thema der Abschlussarbeit: "Modelling positive emotions in decisions under uncertainty" |