BEF-China - Multi-Troph
Multi-Trophic interactions in a forest biodiversity experiment in China
SP4: Linking cavity-nesting bee and wasp food webs to other trophic interactions
Team:


Prof. Alexandra-Maria Klein


Dr. Felix Fornoff


Dr. Finn Rehling

PhD student Massimo Martini

Dr. Manuela Sann (Universität Hohenheim)

Prof. Dr. Chao-Dong Zhu

(Chinese Academy of Sciences, Beijing, China)

Project duration:

October 2022 - October 2026

Funding:

DFG RU FOR 5281


Subproject 4

News on

twitter
---
The Research Unit MultiTroph is part of the Biodiversity-Ecosystem Functioning China (BEF-China) research platform. The platform was established in 2008 by Chinese, German and Swiss researchers and comprises the worldwide largest tree diversity experiment. MultiTroph aims to identify mechanisms underlying the relationships between biodiversity and ecosystem functions across different trophic interactions along the experimental tree diversity gradient of BEF-China. The ultimate goal is to connect the different interaction types to large food webs in the context of tree diversity loss.

In Subproject 4 we will generate and analyze interaction networks of cavity-nesting bees and wasps including their food resources and natural enemies using DNA barcoding and metabarcoding approaches. We will use reed nests and layer nests to continue our long-term monitoring of trophic networks with direct feeding observations. Furthermore, we will build up a reliable DNA barcoding approach, that serves as the basis to establish high-resolution metabarcoding of cavity-nesting Hymenoptera food webs.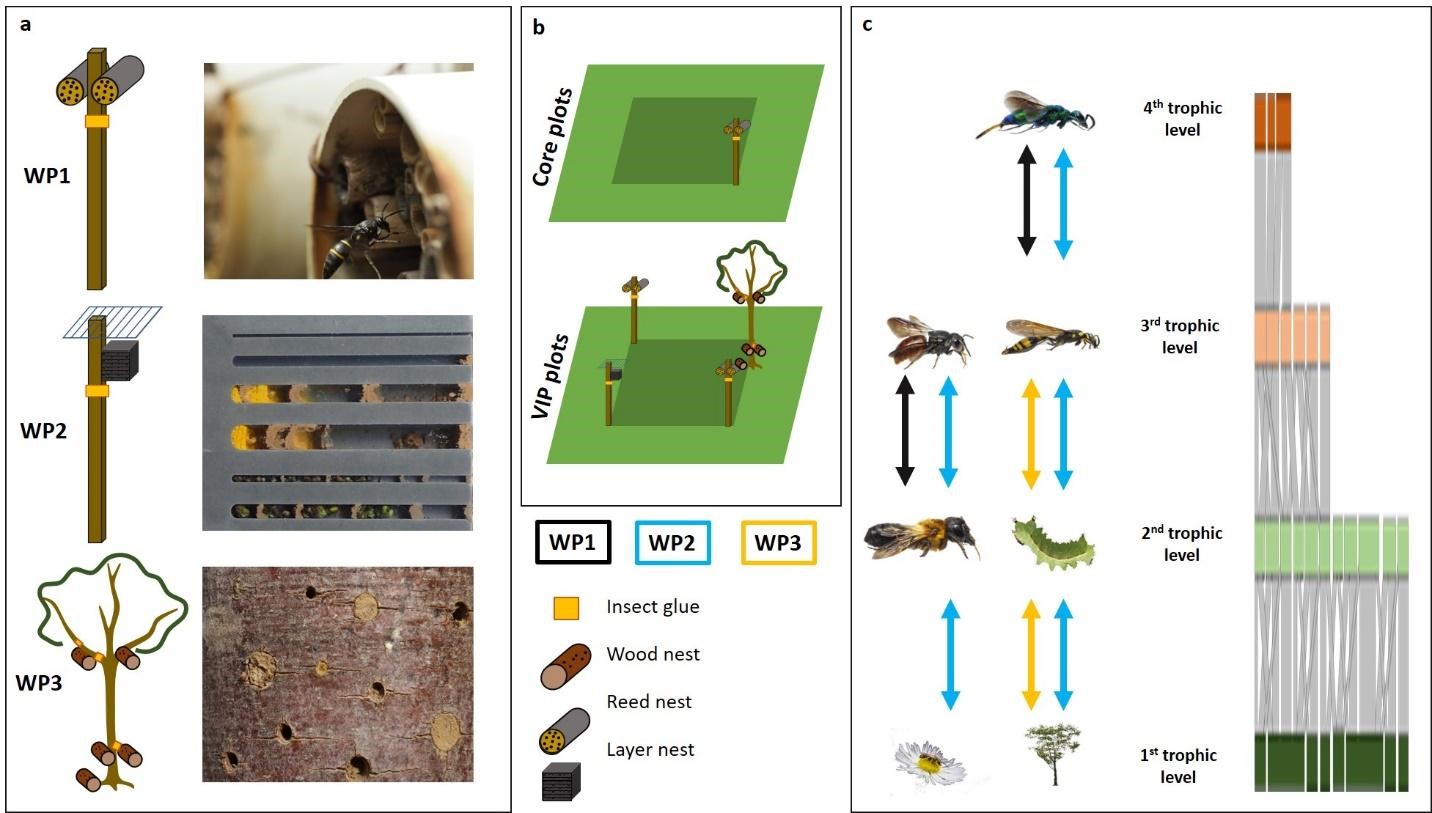 Sampling methods and studied trophic levels and interactions in the three WPs.
a) Three different nests for cavity-nesting Hymenoptera will be used: Reed nests in WP1, layer nest for easy access of nest content and subsequent food resource identification using barcoding in WP2, wood nests with drilled cavities to simulate dead wood at the ground, lower trunk and canopy with and without ant exclusion in WP3.
b) Sampling design of WP1 at the 300 core plots and of WP2 and WP3 at the 64 VIP plots.
c) Multi-trophic interactions: WP2 will access four trophic levels, while WP1 will study the highest trophic levels with parasitoid-host interactions and WP3 provides the link to dead wood decomposition.